Alumacraft celebrates 75 years and pays tribute to its employees | Local News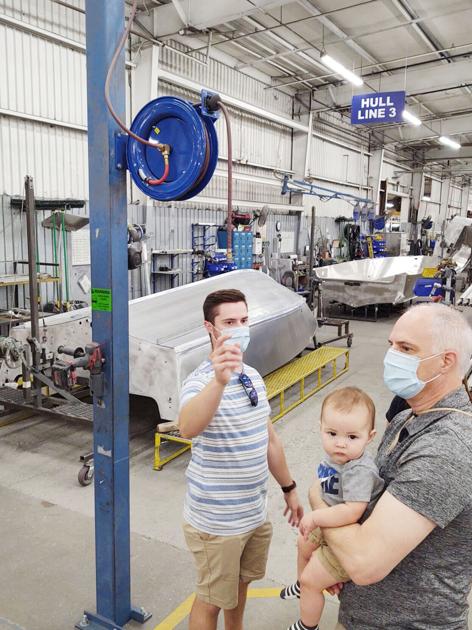 Alumacraft Boat Co. celebrated 75 years in business and thanked employees at an event Saturday at the St. Peter facility.
"We have been waiting and working through COVID to be able to celebrate," said Scott Wilkings, site manager for Alumacraft.
The company's 230 employees and their families enjoyed a variety of games, meals and events on the factory grounds.
"We had 15 weeks of closure over the last year. Our employees have sacrificed so much to be a part of the team and to develop themselves over the past 16 months of COVID, "said Wilkings. "We had a week of employee appreciation that culminated with this open house and celebrated its 75th anniversary. "
Isaac Langford gave family members a tour of the boat building factory, highlighting the process of turning aluminum sheet into boats.
"I have been here for a year. I worked on the floor until an engineer job opened up in the office. It's a good group of people here, "said Langford, a graduate of Minnesota State University with degrees in automotive technology engineering and manufacturing technology.
"We take the problems and find solutions," he said of the engineers. "Whether it's something wrong or whatever the problem, we fix it. "
Wilkings said the company is doing well and has seen a surge in demand during the pandemic.
"Business is extremely strong. We have good orders, the supply chain has been able to supply us. It was just a matter of making enough boats in our factory. We have quite a few back orders, "he said.
"The market was very strong even during the pandemic when people were looking for things to do at home. "
Wilkings said parent company BRP has also seen strong demand for its many brands.
He said that the Alumacraft Competitor series of boats are very popular. The company has just introduced the Competitor FSX, which is a crossover boat for fishing and water sports.
Like virtually all businesses, the shortage of skilled workers has been a problem for Alumacraft.
"It has been a challenge. We've been hiring people non-stop for over a year.
Rich history
Alumacraft was born out of the Flour City Ornamental Iron Company, founded by a German-born blacksmith in Minneapolis in the late 1800s.
After World War II, there was an excess of leftover metal and skilled workers, which prompted the steel company to launch Alumacraft in 1946.
Alumacraft moved its headquarters and production plant to Saint-Pierre in 1970 and is one of the oldest and largest boat manufacturers.
In 2018, BRP, a Canadian company that manufactures Ski-Doo snowmobiles, Sea-Doo jet skis, Evinrude boat engines and a variety of powersports equipment, purchased Alumacraft.
This was the first foray into boat manufacturing for BRP, based in Valcourt, Quebec.
BRP said that Alumacraft had revenue of around $ 100 million in 2017. At the time, BRP had revenue of around $ 4 billion.