Expert shares 3 major supply chain risks to avoid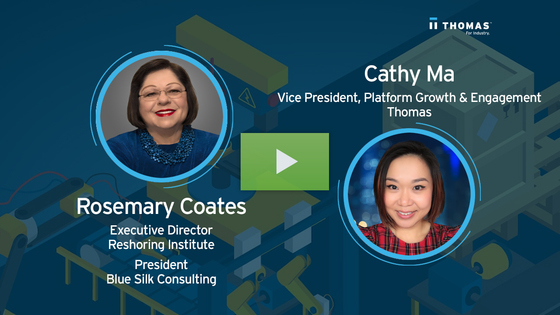 Welcome to Thomas Insights – every day we post the latest news and analysis to keep our readers up to date with what's happening in the industry. Sign up here to receive the best stories of the day straight to your inbox.
"I spent 35 years trying to explain supply chain management to my friends and family, and what are they like?" laughs Rosemary Coates, executive director of the Reshoring Institute and president of Blue Silk Consulting. "But today, of course, it's the headlines The Wall Street Journal everyday. Everyone is talking about supply chains and how they have affected our lives over the past couple of years, in particular. "
While his friends and family may be less familiar with the supply chain, Coates is no stranger to his massive global impact. Through her previous roles at Solar Turbines, SAP, KPMG Peat Marwick and Hewlett-Packard, she has been at the forefront of the ever-changing nature of the industrial supply chain. She even shared her knowledge with other industry professionals by writing several books, including Legal Blacksmith: How to Avoid and Defend Supply Chain Disputes, and serving as an expert witness in nearly 50 different legal cases.
This week, Coates joins Cathy Ma, Thomas Vice President of Platform Growth and Engagement, in the latest episode of the Thomas Industry Update podcast to discuss her journey to becoming an expert witness, lessons she has learned. 'She learned about the supply chain over her decades of industry experience and how the global supply chain will continue to change over the coming year.
Below is an excerpt from their conversation. The interview has been edited slightly for length and clarity.
Cathy Ma (CM): Regarding the entire buyer's work cycle with international suppliers, do you see specific areas that are more likely to be challenged in today's industrial environment?
Rosemary Coates (RC): I have worked on around 50 cases, ranging from huge global cases to smaller litigation, and all of them have focused on commercial work. And by that, I mean, contracts primarily between parts of the supply chain. What I saw most often were disputes over what the deal was. So, maybe you signed an agreement, and you think you have detailed the operations or the requirements of both sides, and then there is a misunderstanding. One side thinks you should do one thing. And the other side says, "No, it's not like that." And it ends in an argument.
I will tell you, it is very expensive when you enter into litigation. Not only do you have to pay the lawyers, but you also have legal fees and then expert fees. And it is not cheap. It is often millions of dollars, although it may just be a fairly small dispute. But what normally happens is a misunderstanding between the parties where they just think they are in agreement on something, and they really are not.
The other thing that I see very often is poor project management. You can be trained in all the official ways of managing and documenting your project, but in reality, project management is much more than that. It's about settling disputes. It's very often that I see parties where one person is the project manager and they document everything. They have a weekly call, and they say, well, you know, we had weekly calls and we knew there was a problem. But what they really do is just write it down somewhere in some report. They don't really solve the problem. And project management often requires a lot of these kinds of soft skills to work on solving the problem instead of letting it escalate and escalate, and ultimately end up in court.
So, it's really those two things. It is a misunderstanding of the terms, which were not detailed enough and not clear enough. And then secondly is this idea where you have problems getting worse instead of trying to solve them and being very focused on finding a solution before it goes to court.
CM: In your experience as an expert witness, working in so many industries and partnering with different companies, what lessons have you learned over the years that you can share with us?
RC: Sure! I'll give you two. I know buyers are always looking for savings opportunities and it is important to be able to report on them because that is one of the key metrics. At the end of the year, that's how they're measured, right? How much money did they save? Unfortunately, this often leads to buying counterfeit products that you don't even know are counterfeit. Because they're a little cheaper, it looks like a good deal, and you buy them.
There is this whole world of global counterfeiting that is growing enormously and causing problems, especially if you are in a critical industry or buying critical parts for, say, defense electronics. Every time I get on an airplane and buckle up my seat belt I think, oh man, I hope there isn't some counterfeiting in the engine or electronics. I mean, it can be pretty scary, and it's very common these days.
It is therefore very important to watch out for counterfeits. And the way you do that is to validate the business licenses and make sure that if you get a good deal it's really a good deal and not based on counterfeit or gray market products.
Another thing to watch out for from a buyer's perspective is validating and confirming what you are buying. I'll give you another example. I have been involved in a number of cases involving consultants. Companies buy consulting services to implement an ERP system, for example. But it should be remembered that consulting firms are made up of many individual consultants. Some can be great and some not so great. You need to make sure to check their background. I would highly recommend anyone who purchases consulting services to vet every member of the team.
A final area where I see a lot of risk relates to contracts that end before the period indicated. Perhaps, for some reason, you no longer need the parts, or you have decided to go a different route. You end the contract and there is almost always a dispute over who owns the inventory and the process. What about excess and obsolete inventory? Or, if you are dealing with a subcontractor, be prepared for the following response: "We started this equipment for you, and now you have stopped the project, so you have to pay for the work in progress." There are also many disputes in this regard. So I would say you also have to be very, very careful when terminating a contract.
Listen to the full podcast episode
Hear more from the latest interview by listening to the full episode, now available in full in the video player at the top of this article or on the streaming platforms below:
Image Credit: Thomas Industry Update Podcast
Steel and metals supply trends on the rise amid tariff talks
Next story »
More industry trends